If you want to improve your online seduction social skills, do not miss this manual of tips and tricks to link online. Put them into practice!
Currently, one of the most widespread ways to find a partner is to do it online. Whether due to lack of time, to be tired of traditional channels no longer work, the truth is that more and more Internet users looking for girlfriend or boyfriend through pages, chats, social networks and specialized applications in this area. If you are new to the topic of virtual relationships, you have tried it but it has not gone well or you just want to improve your seductive virtual skills, it is convenient that you take into account a series of rules. Take note of the manual of tips to link online that we have prepared for you.
Flirting on the Internet is no longer something new
Indeed. Whereas before it was considered something strange, a thing of geeks or of people who find it difficult to connect in the real world, today linking through the Internet has become a reality in itself and everyone does it naturally. And it is that the network flirt is the new millennial expression of how social networks are currently configured.
Experts tell us: online dating apps will be essential to establish social connections of all kinds in the future. Different studies focused on this love 2.0 know that online dating is part of our social dynamics. For example, a study by eHarmony ensures that online dating is the second most popular way among people of different sex. Another example, a survey from the Pew Research Center, concludes that 50% of young Americans usually communicate their sexual or romantic interest on Facebook. According to the same study, Even social networks are fundamental in relationships, since 72% of young people surveyed communicate with their partner most of the time on WhatsApp.
The popularization of the use of the Internet to find a partner has been brutal, so much so that nowadays it is one of the most common, accepted and used ways to do it.
So, if you are tired of fruitless relationships, to seek the love of your life during your weekend night outings, start relationships in the workplace or that your friends introduce you to a friend with the hope that it will become your life partner without getting results, why not try it through virtual channels?
If you have never tried to flirt online, you have done it but you can not get it out as you expect or you want to perfect your seduction skills online, we give you the guide of tips to link online. Works!
Use the available resources
There are many good applications to link that will help you meet many people related to your personality, tastes and way of being. Do not despise them, because they can be a good principle to know the person who connects sentimentally with you.
Adapt to the language
Surely you would not have the same conversation with a boy or girl you just met with someone you've met before, for example, a friend of a friend … Well, with seduction on the Internet, the same thing happens.
Interact with her or him based on how you have gotten his address. It is not the same to chat with a person that we just met by an online dating application, that if you know a couple of times and your friend has added it to Facebook. Greetings, conversation topics or online flirting time before moving on to an appointment in the flesh will be different depending on how you have met that person online.
Differ from the rest
Although online dating apps offer an incomparable advantage with the real world, the chances of you knowing the person of your dreams multiply by a hundred thousand, also have an inconvenience, and that is that the competition is much greater.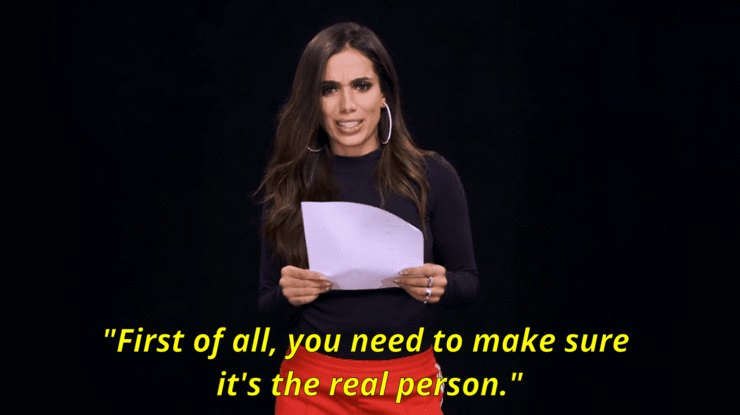 Therefore, it is important that you learn to differentiate yourself from the rest, with a profile that catches your attention, where others perceive you much more attractive than the rest and are interested in seeing more about you. For this, it is important that you do not fall into the typical cliches ('I am a normal person', 'I am fun and friendly', 'I like to laugh' …) that everyone uses in their social networks and that will not allow you to differentiate yourself the rest.
Caring for your image is also important in this type of social networks: look for photos that favor you and that do not put you in compromised situations, avoid using photos in which you go out with another person so there are no misunderstandings (maybe they do not contact you because they think that you are with that person) and choose those positive photos of your life that show your interests and who you really are. It is not about lying, but about showing your best side, just like you would on a date when choosing the best clothes, combing and perfuming.
Avoid rude language
Some studies confirm that sexual and coarse language too early in virtual interactions causes people to withdraw from the conversation or decide not to continue to know that person.
In fact, one of the reasons why Tinder launched Tinder Reactions is that many women had to face coarse situations in their search to find a partner through the online dating app.
So avoid talking about sex quickly through chat (leave that for when you have a good date and be the occasion) and avoid bad or rude words that can curb the person you're chatting with. Always try to use a good spelling that speaks well of you and if someone angers you, it is best to express it with elegance and seek contact with other people.
Respect flirting times
Online seduction has its times, just like other types of seduction. Be patient, do not overwhelm or transmit despair. Understand that chat conversations are sometimes not immediate (maybe the other person comes up with something important while talking to you and decides to answer later).
Do not try to force an appointment quickly, try to have a decent conversation before taking that step. However, do not lengthen too much the days when you communicate virtually. The other person may think that you are hesitating too much and finally get tired and leave. It's about making yourself beg a little but not too much. Of course, if you are really hesitating, do not rush into making the decision to establish a real appointment. Just trust your instincts.
Transmit your emotions
One of the golden rules for online dating is to convey emotions. It is a fact that communication that interests and stimulates more is emotional, mainly positive. In your conversations be subjective and express with short phrases or emoticons your emotions before what you are talking: celebrate, laugh, sing, dance … By the way, beware of emoticons, if you use them in excess you will look childish and immature.
Do not self-justify yourself
Never argue: "I'm sorry for taking so long to answer, I was …" Do not self-justify yourself. You have your life and if you are truly interested or interested in you, you will know how to wait. You do not have to give explanations to someone you do not know or is part of your life at this time. If you ask them impatiently, it is probably a sign that you are an insecure and jealous person, so think twice before continuing the contact.
Be honest
Sincerity and honesty are one of the aspects most valued by users of online dating networks. There is nothing worse than discovering a lie in Tinder or being discovered. In addition, nothing will be useful, because what you want is to fall in love with you for who you are, not for who you say you are.
One thing is to highlight the positive aspects of you so that they notice you, and it is quite another thing to invent what you are like. If you do, many people will notice it and will withdraw from your chat, and when you have an appointment, we assure you that it will be a disaster.
Do not lose sight of your goal
The goal is always to have an appointment: do not consider intimate relationships in the short term. The purpose is to connect with her or him, gain their trust and, finally, close an appointment in person. Do not expect anything else, just live in the moment.
On the other hand, do not waste your time with people that you know are not for you. Many people who start using online dating apps and websites end up losing themselves in the universe of the chats without taking them anywhere. Be selective, prioritize and never lose sight of your goal: meet someone close to you and have an appointment with that person.
After reviewing some of the basic tricks to link online comes your turn. Remember that you should speak naturally and let her or him be interested in you, being nice and, above all, very respectful. Do not expect immediate results, this is a long-term task.
Please follow and like us: